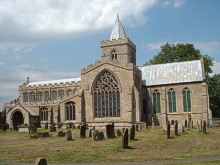 Church Weddings allow a wide scope for traditional
or contemporary religious and secular music. The
Wedding Songs demonstration CD includes a variety of
classical and more modern songs suitable for a church wedding to give you different ideas and possibilities to make your own wedding service personal and special. Although many people do choose music from the CD, you are certainly not restricted to these pieces, and we are happy to accommodate most music requests if possible.
Whether a small village church or a cathedral,
the songs and music you choose can make the difference
between 'a' wedding and 'Your' wedding!

During The Signing Of The Register
This is the most obvious place for sung music when there is usually time for two, and sometimes three songs - around 7-10 minutes. Rather than 'filling time', use this part of your wedding service as an opportunity to enhance the mood you have created in your ceremony. You may choose to contrast beautiful classical religious arias such as 'Ave Maria' or 'Pie Jesu' with more contemporary songs such as 'One Hand, One Heart or All I Ask Of You. Or perhaps spectacular classical arias such as Mozart's 'Alleluia', 'Exsultate Jubilate', Handel's 'Let The Bright Seraphim', with Romantic arias such as Puccini's 'O Mio Babbino Caro' or the Lakme Flower Song. For a completely different modern romantic mood, you could choose appropriate songs by Celine Dion, Barbara Striesand or Shania Twain amongst others.

Before the service begins to 'Set the Scene'
This is a very popular choice as it is the time when everyone is chatting away with no particular focus but a general sense of 'occasion'. You can create a special mood by choosing one or two reflective or romantic pieces as a prelude to the service to contrast with your entrance music.
During the Bridesmaid's entrance (before the bride)
A beautiful song for your bridesmaids entrance might be appropriate if you have a large number of attendants and want them to set the scene. For your arrival you could then have either contrasting organ music, or a beautiful contrasting solo such as 'Ave Maria'.
For the Bride's Entrance
As an alternative to organ music, and for a dramatic and moving bridal entrance itself you could walk down the aisle to something sung such as the 'Ave Maria' which is both traditional and unexpected at the same time! Or choose your own favourite song or aria. As an alternative to the signing of the register, the traditional 'Ave Maria' can also be sung just before the bride's entrance (so you can hear it as well as your guests!) or even as a dramatic and moving bridal entrance itself.
Before or After Vows
Particularly if you choose a solo to enhance your vows or emphasise a reading or prayers, such as 'One Hand, One Heart', 'The Rose', or 'Pie Jesu' amongst others. You also have a special time yourselves to listen to something sung 'just for you' which can be very moving.
This may also be appropriate if you are worried about your guests singing or are having only a few guests. Two well chosen hymns for your guests, with a solo piece before or after your vows or prayers adds no extra time to your service but gives your wedding a very personal touch.

As the Couple Exit
Organ music is generally the best option for a vibrant exit, but very occasionally couples may choose sung music if looking for an alternative to organ music.
Catholic Weddings
Might also include a sung Psalm or spiritual song in place of a reading such as Mozart's beautiful 'Laudate Dominium' (Psalm 116) sung as a solo or with choir, or other traditional psalms such as 'The Lord's My Shepherd'. Beautiful contemporary Psalm settings include Adrian Snell's Psalm 27, and contemplative spiritual pieces by John Michael Talbot, Graham Kendrick and others. The Lord's Prayer' (Our Father) can also be sung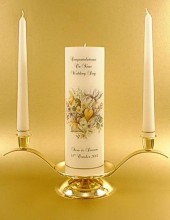 During the candle-lighting ceremony
There are several songs written specifically for a candle lighting ceremony which symbolises the Trinity itself, Father, Son and Holy Ghost. But other religious songs can also be sung during this time.
During Communion
Any religious pieces are appropriate here including Panis Angelicus, Pie Jesu, Ave Maria, Laudate Dominium, Ave Verum, Amazing Grace, Make Me A Channel Of Your Peace and Jesu Joy Of Man's Desiring amongst others.

If your service is a Blessing or an Anniversary celebration there is a similar variety of choice but as there will be no signing of the register, you could also consider:
Prior to your Ceremony; During Your Entrance; During a candle-lighting ceremony;
Before or after your marriage vows, readings or Prayers; Secular or religious songs could both be appropriate during a Wedding Blessing or Anniversary


Organists
Your resident church organist can accompany singers if they are in agreement, in which case I can make arrangements direct with the organist on your behalf, sending music where necessary and arranging rehearsal for your wedding day. However, if you prefer, or if your choice of music is particularly demanding, Wedding Songs can also book a professional organist for you.
Harpists & String Quartets
Other alternatives are String Quartets, Harpists and Pianists who may also be booked to play during your drinks reception or wedding breakfast afterwards.
Trumpets
If your choice is the Trumpet Tune or Trumpet Voluntary you could book a trumpeter who can also play with some of your hymns and may be able to play with a soloist if your choice includes pieces such as 'Let The Bright Seraphim' or 'Love Changes Everything'.
For a particularly dramatic entrance, you could also have a trumpet fanfare as you arrive at the church or at your reception!
Drinks Reception & Wedding Breakfast
Musicians can also be booked for your drinks reception and/or your wedding meal. Other musicians can also be booked for your reception and evening entertainment including Dixie Bands, Jazz Ensembles, Brass Players and Ensembles, Bagpipes and fabulous Dance Bands.
Booking
To avoid disappointment it is important to book as early as possible, particularly if your wedding is during the busy spring and summer months.
Your Wedding Day is one of the most important days of your life. The
songs and music that you choose will live in your own memory and
that of your guests forever. Don't you deserve the best? I will be delighted
to help you make your ceremony personal, unique and special and very
much look forward to hearing from you.
For a Professional, Personal and Unique service, contact
Catherine Françoise for further information & FREE Demonstration CD
U.K.Nation-wide Service including Ireland
E-mail: catherine@weddingsongs.co.uk
Phone: 01753 882646 Fax: 01753 889946 Mobile: 07850 617775