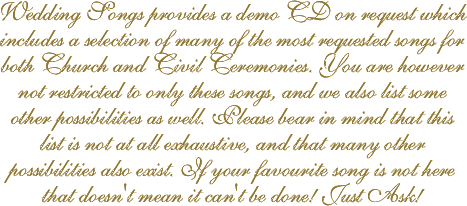 Wedding Songs Demonstration CD/Tape
Ave Maria (Schubert)
Ave Maria (Bach/Gounod)
O Mio Babbino Caro (Puccini)
One Hand, One Heart (Bernstein)
All I Ask of You (Lloyd Webber)
Laudate Dominum - Psalm 116 (Mozart)
Exsultate Jubilate (Mozart)
Pie Jesu (Lloyd Webber)
Panis Angelicus (Franck)
O Perfect Love
Lakme Flower Song (Delibes)
Amazing Grace
Fill Your Hearts with Joy and Gladness
(Ode to Joy - Beethoven)
Alleluia (Mozart)
Let the Bright Serpahim (Handel)
Jesu Joy of Man's Desiring (Bach)
The Rose
Evergreen
Forever Yours
My Heart Will Go On
The Colour Of My Love
Can You Feel The Love Tonight
The Wind Beneath My Wings
Only Love
Love Changes Everything (Lloyd Webber)
When I Fall In Love
Other Song Possibilities
Operatic arias and Classical songs in many different languages;
French, Italian, German, Russian, Spanish, Latin
Jazz Standards by Gershwin, Porter, Kern. Berlin, Sinatra, Nat King Cole and others...
Musicals & Films by Rogers & Hammerstein, Lloyd Webber, Sondheim, Berstein and more...
Contemporary Romantic Songs by Celine Dion, Barbar Striesand, Shania Twain...
Classical Religious
Alleluia (Mozart)
Ave Maria (Cachini)
Ave Verum (Mozart)
Laudate Dominum - Psalm 116 (Mozart)
Pie Jesu (Lloyd Webber)
Panis Angelicus (Franck)
O Perfect Love
Tu Virginum Corona (Mozart)
Exsultate Jubilate (Mozart)
Domine Deus (Vivaldi)
Benedictus (Haydn)
Laudamus Te (Mozart)
Jauchzet Gott (Bach)
Rejoice Greatly (Handel)
My Heart Ever Faithful (Bach)
The Lord Bless You and Keep You (Rutter)
Let the Bright Seraphim (Handel)
Jesu Joy of Man's Desiring (Bach)
Amazing Grace
Fill Your Hearts with Joy and Gladness
(Ode to Joy - Beethoven)
Love One Another - 1 Peter 1
How Blest We Are
Classical Non-Religious
Solo Con Te (Handel)
Caro Mio Ben (Hadel)
Bailero (Canteloube)
In Trutina - Carmina Burana (Orff)
Eternal Source Of Light Divine (Handel)
Ombra Ma Fui (Handel)
Where'er You Walk (Handel)
Ridente La Calma (Mozart)
Bist Du Bei Mir (Bach)
Ich Liebe Dich (Grieg)
Widmung - Dedication (Schumann)
Du Bist Die Ruh (Schubert)
Zdyes Choroso (Rachmaninov)
I do (Cassin)
Nella Fantasia (Morricone)
Opera
O Mio Babbino Caro (Puccini)
Lakme Flower Song (Delibes)
Lascia ch'io Pianga (Handel)
Soave Sia II Vento (Mozart)
Depuis Le Jour (Charpentier)
L'Amero (Mozart)
Voi Che Sapete (Mozart)
Chi'il Bel Sogna (Puccini)
Soave Sia II Vento (Mozart)
Je Veux Vivre - Romeo & Juliet (Gounod)
Belle Nuit D'Amour (Barcarolle) (Offenbach)
Ebben! Ne Andro Lontana - La Wally (Catalani)
Brindisi (Libiamo ne lieti calici) (Verdi)
Jazz Standards
Fly Me To The Moon
I Only Have Eyes For You
Our Love Is Here To Stay
Our Love Affair
Love Walked In
I Get A Kick Out Of You
Someone To Watch Over Me
Meet The Beat Of My Heart
Love Is The Sweetest Thing
Embraceable You
The Man I Love
Come Rain Or Come Shine
The Very Thought Of You
I've Got You Under My Skin
Twelfth Of Never
Nearness Of You
Night and Day
I'm In the Mood For Love
How Deep Is The Ocean (How High Is The Sky)
Quel Qu'un M'ai Mera
'S Wonderful
Musical Theatre & Films
Come What May
All I Ask Of You
One Hand, One Heart
Can You Feel The Love Tonight
Love Changes Everything
Somewhere
True Love
And This Is My Beloved
Not A Day Goes By
A Heart Full Of Love
A Whole New World
This Is My Lovely Day
In A Simple Way I Love You
Unexpected Song
Forever Yours
So In Love
Tonight
I've Never Been In Love Before
Hymne De L'Amour
La Vie En Rose - Take Me To Your Heart Again
Smoke Gets In Your Eyes
Music Of The Night
Out of My Dreams
Hello Young Lovers
Contemporary
From This Moment
How Do I Live?
Heaven
I Dreamed Of You
Just One Lifetime
My Heart Will Go On
The Wind Beneath My Wings
The Colour of my Love
Love Never Asks Why
Kissing You (Love Theme Romeo & Juliet)
Because You Loved Me
I Finally Found Someone
When I Fall In Love It Will Be Forever
Tonight I Celebrate My Love For You
Everything I Do, I Do It For You
Up Where We Belong
Have I Told You Lately That I Love You
Bridge Over Troubled Water
Nothing's Gonna Change My Love For You
When You Tell Me That You Love Me
The First Time Ever I Saw Your Face
Battle Hymn Of Love
Truly, Madly, Deeply
Your Song
Woman In Love
And I Love You So
I Won't Last A Day
Always There
Without You
Get Here
Only Love
Close To You
We've Only Just Begun
Evergreen (Striesand)
Save The Best For Last
Love Me Tender
You Light Up My Life
Songbird
Because
I Believe
The Power Of Love
And I Love You So
Endless Love
The Wedding Song (Ave Maria)
Falling Into You
Irish Blessing
Contemporary Religious
Our Shalom
Then Came A Friend
Love Has Never Been This Way Before
A Song For A Life Together
Two Flames That Glow
Wedding Song (There Is Love)
I Dreamed Of You
Flesh Of My Flesh
Wedding Prayer (Dunlap)
He's Got The Whole World In His Hands
Where You Lead I Will Follow
Psalm 27
El Shadai
Hymns as solos
God Of All Living
Amazing Grace
How Great Thou Art
Morning Has Broken
The Lord's My Shepherd
Make Me A Channel Of Your Peace
Lighting Of Candles
The Love I Learned From You
(to be sung while mothers light a candle at your ceremony)
Choral Music
For The Beauty Of The Earth
The Lord Bless You and Keep You
I Would Be True
The Lord's Prayer (African Sanctus)
Jesu Joy Of Man's Desiring
Panis Angelicus
Dream A Dream
Love Changes Everything
The Wind Beneath My Wings
What A Wonderful World
The Rose
Others
Please note that this is just a selection of the most popular music requested during a Wedding Ceremony. If you would like help in choosing what would be right for you, please do not hesitate to ask. I will always endeavour to accommodate your personal requirements.
You may have other ideas in mind also and anything is possible - Just ask us!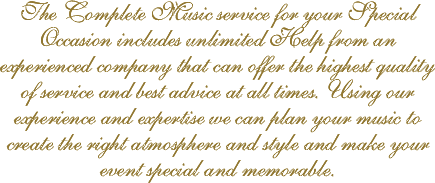 Your Wedding Day is one of the most important days of your life. The
songs and music that you choose will live in your own memory and
that of your guests forever. Don't you deserve the best? I will be delighted
to help you make your ceremony personal, unique and special and very
much look forward to hearing from you.
For a Professional, Personal and Unique service, contact
Catherine Françoise for further information & FREE Demonstration CD
U.K.Nation-wide Service including Ireland
E-mail: catherine@weddingsongs.co.uk
Phone: 01753 882646 Fax: 01753 889946 Mobile: 07850 617775